A Day in the Life of a Radiologist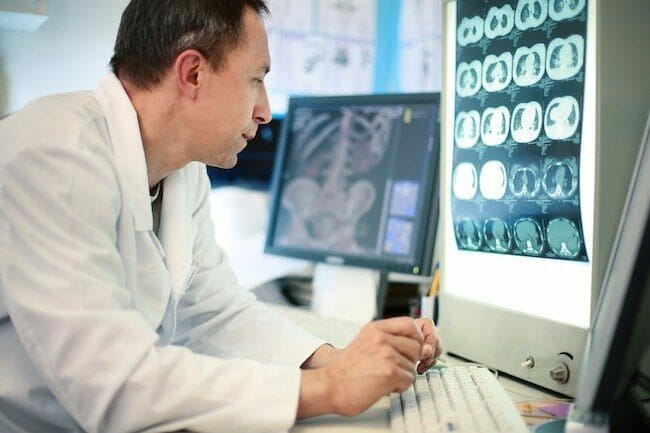 Before you decide you want to become a radiologist, it's important to understand what a day in the life of a radiologist looks like. If you plan to make the commitment to train in the field of radiology, you should know what you will be spending your time doing. Here's a look at the training required to become a radiologist, and then what a day in the life of a radiologist looks like.
Training Required Before Becoming A Radiologist
Before you can become a radiologist, you will need plenty of training. It starts with a bachelor's degree with medical school prerequisite courses, such as physics, biology and chemistry. In addition, you will need four years of medical school to become a physician. Two of those years will be spent in the classroom, while the other two will be spent doing clinical rotations.
Once you have graduated from medical school, you will need to complete a four year radiology residency. In addition, you will complete one or two years in a fellowship training program, usually in a specialized area of radiology.
If you want to be a radiologist, you will need to pass the United States Medical Licensing Exam or the Comprehensive Osteopathic Medical Licensing exam. You may also need to pass certain state requirements. In addition, most radiologists become certified through the American Osteopathic Board of Radiology or the American Board of Radiology.
Radiology Continuing Medical Education
Your education won't stop after becoming a professional radiologist though, because you'll need to stay up to date with your continuing medical education (CME) credits. Just like any other doctor in the United States, radiologists must earn continuing medical education to keep in good standing. For example, our CME courses at CME Science are developed for radiologists to get cutting edge education from renowned staff while visiting amazing destinations around the world. We have conferences in Las Vegas, Hawaii, Melbourne, Rome and many others.
Before you decide to take on more than a decade of schooling and training, it's best to understand what your work day will look like once you become a radiologist.
A Normal Day for a Radiologist
Normal daily tasks for radiologists include:
Obtaining patient histories from patient interviews, electronic records, referring clinicians or dictated reports
Preparing comprehensive reports of findings
Performing diagnostic imaging procedures, such as MRI, CT, PET, ultrasound or mammography
Reviewing the information gathered from diagnostic imaging procedures
Communicating the results of the diagnostic information to physicians and patients
Often, radiologists work more than 40 hours per week and have a set schedule or routine. They work inside and will likely be exposed to radiation, infections and disease. As a radiologist, you will be required to wear specialized protective equipment often.
Other Tasks Performed by Radiologists
While these daily tasks will be performed most often, radiologists also perform certain tasks on a weekly or monthly basis. These tasks may include:
Supervising and teaching medical students
Treating complications after or during a procedure, such as pain, bleeding, blood pressure issues or over sedation
Attending continuing medical education (CME) conferences
Performing interventional procedures including percutaneous transluminal angioplasty, nephrostomy catheter placement, image-guided biopsy or transhepatic biliary drainage.
While these tasks are not performed as often, they are a part of the job as a radiologist.
Becoming a radiologist can be a very rewarding career. A day in the life of a radiologist may include all of the tasks above, which could be specialized into a specific area of radiology. If you're considering entering this career field, it may be a good idea to understand the tasks of the job first. The training is a large commitment and you want to make sure you will enjoy the work once you've gone through the many years of schooling and training to become a professional radiologist.